Home » Posts tagged 'Economic Development'
Tag Archives:
Economic Development
Auburn University President Jay Gogue has signed a memorandum of understanding with Youngsoo Lee, president of KITECH, to formalize the joint research efforts of Auburn's faculty and labs with local companies supported by KITECH.
The Korea Institute of Technology, or KITECH, recently documented collaboration in research and technology development with Auburn University to support the Korean automotive industry. Established in 1989, KITECH is a government funded research and development institute headquartered in Cheonan, South Korea, with several research centers in Korea, as well as international cooperation centers in China, Vietnam, Indonesia, Germany and Santa Clara, California.
"This signing creates a portal for Auburn University that facilitates our collaboration with the local automotive industry, the parent companies in Korea and the Korean government," said Andy Gillespie, Auburn University assistant provost for international programs. "Our King Sejong Institute, in partnership with Keimyung University, is our cultural bridge to Alabama's Korean and American communities, and our new relationship with KITECH will become our technical bridge, building on recent efforts by a number of Auburn's colleges and offices."
Other visitors present at the signing were Byung-Wook Choi, director of the KITECH USA Technology Cooperation Center; Sangkug Lee, director of the International Cooperation Department; Minjin Kim, researcher for the KITECH USA Technology Cooperation Center; and SangWoo Lee, administrator in the International Cooperation Department.
In 2014, the Office of University Outreach held a workshop for local companies supported by KITECH. With this declaration of a commitment to joint research, the Office of the Vice President for Research and Economic Development continue this collaboration with its involvement.
"There are over 60 Korean companies along the I85 Corridor between Montgomery and West Point, Georgia," said Larry Fillmer, executive director of the Department of External Engagement and Support. "This MOU provides a framework for collaboration among KITECH subject matter experts and Auburn faculty and researchers."
Throughout the last five years, Samuel Ginn College of Engineering professor Song-Yul 'Ben' Choe has been working with the Office of International Programs and KITECH to establish a regional office in Auburn for joint research and development efforts for the Korean automotive industry.
"Through supporting agreements, research projects, technical assistance, facilities and labs at Auburn may be shared to provide operational and manufacturing solutions to problems being encountered by Korean companies in our immediate region," said Fillmer. "In the future, KITECH may seek to establish an office and operations in the Auburn University Research Park."
by Sarah Phillips
On July 30, 2015, Auburn University will be hosting a by invitation only forum on industrialized additive manufacturing.
Experts will discuss the application of this advanced technology for industries ranging from aerospace to biotechnology.  Industry leaders from GE Aviation, GKN, NASA, Carpenter Technology, Alabama Laser, U.S. Army Aviation and faculty from Auburn University, University of Alabama, UAH and University of Memphis will describe the role their organizations are playing in developing, implementing and utilizing new processes and computer-aided hardware and software to produce components from material and composites once considered exotic.
A keynote address will be given by Greg Morris, the General Manager of Additive Technologies for GE Aviation.
To learn more about this day-long forum and networking reception to follow, or if you are interested in attending, please email forum organizers at auees@auburn.edu.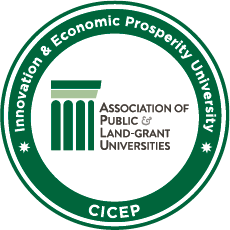 One of the nation's top higher education associations today recognized Auburn University for leadership in fostering economic growth, prosperity and innovation.
The Association of Public and Land-grant Universities named Auburn an Innovation and Economic Prosperity University, a designation that recognizes the university's strong commitment to economic engagement and its work with public and private sector partners in Alabama and the region.
"Auburn is in the business of helping people achieve their hopes and dreams, and that's why we're committed to working alongside entrepreneurs, industry leaders and government officials as an engine of economic opportunity," Auburn University President Jay Gogue said.
The Association of Public and Land-grant Universities, or APLU, is a research, policy and advocacy organization dedicated to strengthening and advancing the work of public universities in the U.S., Canada and Mexico.
Auburn began the application process for the Innovation and Economic Prosperity University designation in September and engaged in an extensive self-study which included, among other things, surveys and focus groups with stakeholders from around the state of Alabama. The study found Auburn had a $5.1 billion economic impact on the state economy in 2014 and supports 23,600 jobs, in addition to direct employment.
"We are establishing partnerships and providing support to business and industry with an eye toward spurring growth," said John Mason, Auburn University vice president for research and economic development. "These relationships benefit our students with learning experiences, while companies benefit from Auburn's world-class faculty and research."
A highlight is the university's engagement with GE Aviation to help bring high-volume additive manufacturing to the GE facility in the city of Auburn, where it will manufacture jet engine fuel nozzles. The facility will be the first of its kind to mass produce additive components for the jet propulsion industry. The university will collaborate on training and industrializing processes as well as developing a curriculum for engineers interested in industrialized additive manufacturing.
Auburn is also home to a 13,000-square-foot Radio Frequency Identification, or RFID, Lab focusing on the business and technical implementation of RFID and other new technologies in retail, supply chain management and manufacturing. It is a unique private and academic partnership between major manufacturers and retailers, technology vendors, standards organizations as well as top faculty and researchers from many disciplines.
Auburn is one of 18 universities named in APLU's third annual class of Innovation and Economic Prosperity Universities and is the only university named in the state of Alabama. Joining Auburn this year are Binghamton University; Clemson University; East Carolina University; Mississippi State University; New Jersey Institute of Technology; New Mexico State University; Ohio University; Southern Illinois University; University of Arizona; University of Kansas; University of Louisville; University of Maryland; University of Nebraska-Lincoln; University of New Mexico; University of South Florida; Utah State University; and Western University.
With a membership of 238 public research universities, land-grant institutions, state university systems and affiliated organizations, APLU's agenda is built on the three pillars of increasing degree completion and academic success, advancing scientific research and expanding engagement.
To learn more, visit www.auburn.edu/externalengagement